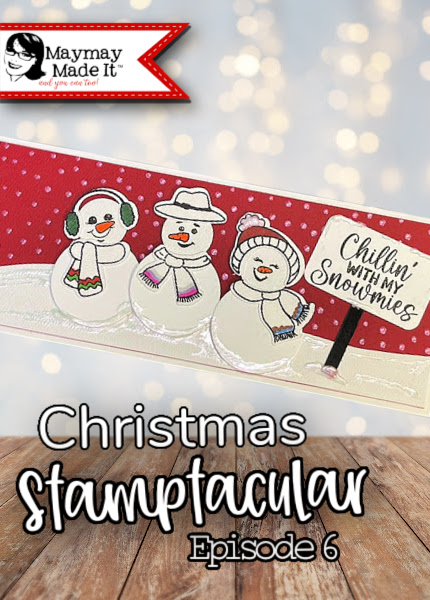 Christmas Stamptacular Episode 6 Chillin' with my Snowmies!
Who is ready for some cool weather?!? Let's cool of with some fun snow people!!
Tonight Maymay created a fun slimline card using the fabulous stamp set Snowmies. 
~~Measurements~~  
The card base is a slimline that measures.  9 3/4″ x 3 3/4″
Mat is one piece cut from pattern paper to  9 1/2″ x 3 1/2″
Sentiment Sign is one piece cut from cardstock  to   2″ x 3 3/4″
Sign Post is one piece cut from cardstock to  1/4″  cut the length to what you may like
Snow Bank is one piece of cardstock cut to 1 1/2″ x 9 1/2 cut the  curves as you like
~~Products~~ 
317    428
363    432
381    454
393    464
416    507 blender
417     508
—I use affiliate links when possible, using these links to purchase awards me a small commission.
Items used in this video are all purchased by me, if and when an item is sent to me I will denote that by using ** next to the item. 
Share your work on our customer gallery here: https://bit.ly/3cSdj0C
Join our Discord here: https://discord.gg/ZpGb7D7NZb