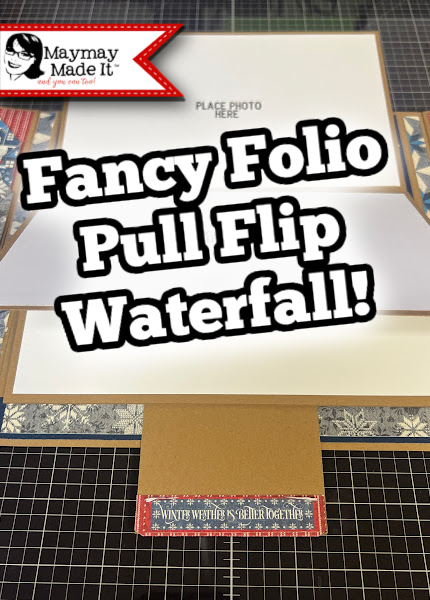 Let's Get Cozy!!!!
Tonight Maymay brings you our newest folio design with a cool twist!
This folio will bring on all the warm and cozy feelings, so gather up those supplies and let's create!!
Printable PDF: https://bit.ly/3zpjWE5
~~Measurements~~
You will need 4 pieces of Kraft cardstock for the construction pieces.
Folio Base: (1)  piece cut to 8 1/4″ x 12″ and score on the 12″ side at  1  3/8″ ~~ 1  7/8″ ~~ 10  1/8″ ~~ 10  5/8″
Doors/Pockets: ( 2 ) pieces cut to 5  1/4″  x 12″ score on 5 1/4″ side at 1/2″ ~~ 4  3/4″  turn to the 12″ side and score at 8  1/4″
Waterfall Photo Mats : 
Mat 1: cut (1) piece to 5  3/4″ x 7  3/4″
Mat 2: cut (1 ) piece to  5″ x 7  3/4″
Mat 3: (1) piece cut to 4  1/4″ x 7   3/4″
Mat 4: (1) piece cut to  3  1/2″ x 7  3/4″
Waterfall tab strip: (1) piece cut to  3″ x 12″ then score on the 12″ side at  2  3/4″  ~~ 3   1/2″ ~~ 4  1/4″ ~~ 5″ ~~ 5  3/4″
Waterfall Anchor Strip: (1) piece cut to  2  3/4″ x 12″
Waterfall Anchor Strip: (1) piece cut to  2  3/4″ x 6″
Using white cardstock 8 1/2″ x 11″ for the following:
Photo mat 1:  5 1/2: x 7 1/2″
Photo mat back 1:   4 3/4 x 7 1/2″
Photo mat 2:  4 3/4″ x 7 1/2″
Photo mat back 2:  4″ x 7 1/2″
Photo mat 3:  4″ x 7 1/2″
Photo mat 3 back:  3 1/4″ x 7 1/2″
Photo mat 4:  3 1/4″ x 7 1/2″
Using pattern paper for the following:
Waterfall main base:  (1) piece cut to 8″ x 8″
Waterfall pull tab decor: (1) piece cut to 3″ x 1  1/4″ score at 5/8″
Waterfall base bottom:  (1) piece cut 1  1/2″ x 7  3/4″
Cover doors/pockets: (1) piece cut to 4 x 4  1/4″  cut in half at 4″ to make (2) door pieces
 Pocket Liner:  (1) 4″ x 4  1/4″
Pocket mat:  (2) pieces cut to
Large Oblong latch:  (1) piece cut to 1  3/4″  x 3/4″
Smaller Rounded latch:  (1)piece cut to 1  1/4″ x 1  1/4″
~~Products~~
Graphic 45 Let's Get Cozy 8×8 paper pad  https://bit.ly/3TW3vHm
Graphic 45 Let's Get Cozy  Ephemera https://bit.ly/3SNiORB
Prima Marketing Memory Hardware embellishments  https://bit.ly/3znzJTS
Prompted Album Stamp Set https://bit.ly/3DfetRr
Paper Accents 12×12 Cardstock https://bit.ly/3e7ThRm
Cricut 13" Trimmer https://bit.ly/3sXk1fN
WRMK Scoreboard  https://bit.ly/3x4TOMb
Dress My Craft Bone Folder  https://bit.ly/3zL89yl
Cutter Bees Scissors https://bit.ly/3MVw1W4
Art Glitter Glue https://bit.ly/3jb9WpP
Fine metal tip https://bit.ly/3rrpRUL
Tim Holtz Ruler https://bit.ly/3Byhnhe
EK Embossing Stylus https://bit.ly/3qZy6q2
Elizabeth Crafts Double Sided Tape https://bit.ly/3yTvtsF
Gelly Roll https://bit.ly/39IjZ4p
WRMK Angle Chomper https://bit.ly/3x4o611
Scotch Double Sided Foam Tape https://bit.ly/3ROIv4S