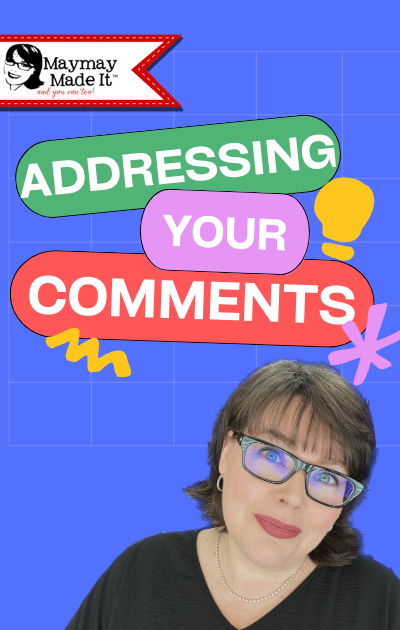 OVERWHELMING?
 

I get it, it's A LOT!
Don't want to make you wait, let's talk about your comments
Why and How? You have sent in questions and comments for this series and today Maymay is answering them… so grab a warm drink and a tasty snack and let's get some answers…
Videos/ Classes and links  mentioned in this video: 
Part 1.  https://youtu.be/jBQmSERZmAc
Part 2.  https://youtu.be/fRYhhj3ABXM
Part 3.  https://youtu.be/98eQ4MDVmhc
Greeting Card 101 Class ( online ) https://bit.ly/3kUZwyo
Stamp Right Up Class ( online)  https://bit.ly/3wEKY8z
~~Maymay Stamp Sets Section   https://bit.ly/3HFsDi6 
sets recommended for beginners:
All Occasions, More All Occasions,Much Obliged, From All of Us, Tag sets and Builder sets
~~SEW CHARMING WEBSITE  https://www.sewcharmingquiltshop.com/
~~Gemini Junior Die Cutting Machine https://bit.ly/3H3y9KW
~~Dress My Craft Trimmer and Score Board Review and Demo https://youtu.be/8i-WuvrYFDI
~~Tips and Tricks for Paper Trimmer Specifically Cricut Trimmer https://youtu.be/OcEmgSilpHw
~~Trimmer Trouble? Let me help! How to read and use a paper trimmer, start to finish!  https://youtu.be/GIGS7gALvx4
~~No Fuss Fussy Cuttin'  https://youtu.be/3DFrwm3FqRw
~~The Crafter Show…are you afraid of your scissors? Let's fussy cut about it!  https://bit.ly/3R1aT3B 
~~ Punch Section in the store: https://bit.ly/3Rhfb74
—I use affiliate links when possible, using these links to purchase awards me a small commission. Items used in this video are all purchased by me, if and when an item is sent to me I will denote that by using ** next to the item.
Share your work on our customer gallery here: https://bit.ly/3cSdj0C
Join our Discord here: https://discord.gg/ZpGb7D7NZb