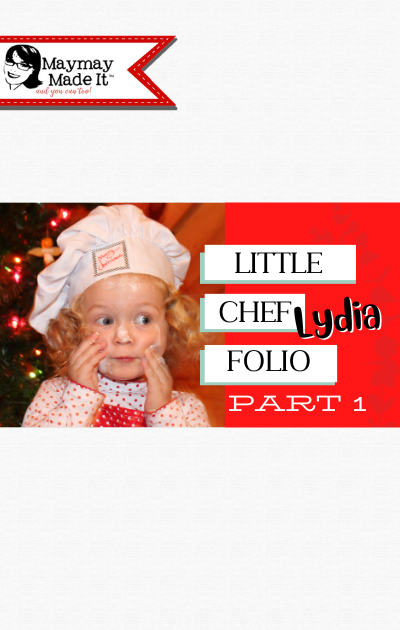 Little Chef Folio hot and fresh out of the craft room!
Today Maymay takes the 49 and Market Foundations folio we assembled the other day and begins to decorate the pages.
The Little Chef 12×12 collection is perfect for those adorable snapshots of the kids creating in the kitchen.
So gather up those supplies and let's get to cookin'…oops creating!

Link to Part 1 the Folio Assembly https://youtu.be/X5GxgULGvSU
~~Measurements~~ 
We suggest measuring all your pages to get the most accurate measures. Our measures may vary from yours..
Cover bottom section: 6″ x 7  7/8″
Cover top section: 3″ x 6″
Tabs: we made (5) 2. 1/2″ x 2  3/8″ score on the 2  1/2″ side at 1  1/4″
Flip mats: 3  3/4″ x 5  3/4″
~~Products~~ 
Photo Play Little Chef  https://bit.ly/3GVOekO
49 and Market Foundations  Pages-A- white  https://bit.ly/3QSRGRN
Prompted Albun Stamp Set  https://bit.ly/3kyeiuy
Art Glitter Glue https://bit.ly/3jb9WpP
Fine metal tip https://bit.ly/3rrpRUL
American Crafts Cardstock https://bit.ly/3VV5DzP
Basic Grey Magnets https://bit.ly/3yLlpoM   Small https://bit.ly/3hqoHae
Cutter Bees Scissors https://bit.ly/3MVw1W4
Dress My Craft Paper Trimmer https://bit.ly/3cNJKhL
Dress My Craft Bone Folder  https://bit.ly/3zL89yl
EK Embossing Stylus https://bit.ly/3qZy6q2
Fiskars Stamp Blocks https://bit.ly/3cEorya
Memento Dual Tip Marker Tuxedo Black  https://bit.ly/3AfYGyg
Tim Holtz Ruler https://bit.ly/3Byhnhe
Versafine Onyx Black Ink https://bit.ly/3Ctk6K6
WRMK Corner Chomper  https://bit.ly/3Dy3F2A
WRMK Scoreboard  https://bit.ly/3x4TOMb
WRMK Angle Chomper https://bit.ly/3x4o611
—I use affiliate links when possible, using these links to purchase awards me a small commission. Items used in this video are all purchased by me, if and when an item is sent to me I will denote that by using ** next to the item.
Share your work on our customer gallery here: https://bit.ly/3cSdj0C
Join our Discord here: https://discord.gg/ZpGb7D7NZb