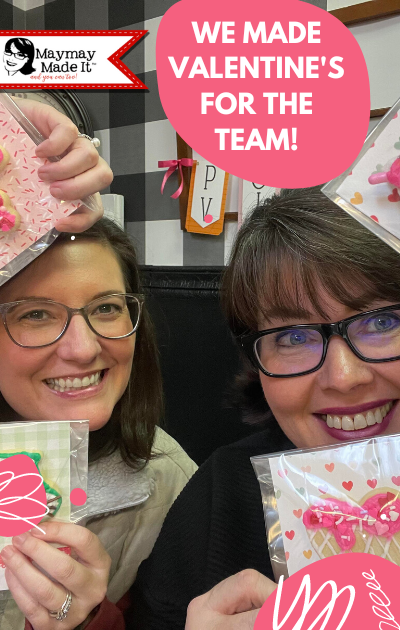 What do cookies + cardstock = ???…fun Valentine's Day treats for your friends and family!
Today Maymay and Shannon take some sweet treats and combines them with papercrafting!
We are bringing you a creative cookie kit from Chestnut Hills Farmstead!
So go order your kits, grab a warm drink and a sweet treat and let's create!
Here is the ordering information for the Valentine Cookie Kits Farm Edition.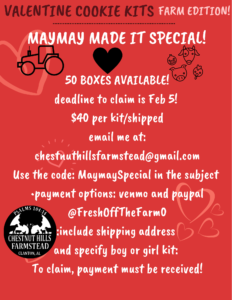 Chestnut Hills Farmstead youtube link: https://www.youtube.com/@ChestnutHillsFarmstead
~~Measurements~~ 
Package backer:  4  1/4″ x 5  1/2″
Cookie holder: 4  1/4″ x 4  1/2″
Border: 4  1/4″ x 4  1/2″
~~Products~~
Carta Bella My Valentine 12×12 paper collection  https://bit.ly/3JFfFSO
Dress My Craft Dotted Heart Border Punch  https://bit.ly/3HrNF2w 
Art Glitter Glue https://bit.ly/3jb9WpP
Fine metal tip https://bit.ly/3rrpRUL
Cutter Bees Scissors https://bit.ly/3MVw1W4
—I use affiliate links when possible, using these links to purchase awards me a small commission. Items used in this video are all purchased by me, if and when an item is sent to me I will denote that by using ** next to the item.
Share your work on our customer gallery here: https://bit.ly/3cSdj0C
Join our Discord here: https://discord.gg/ZpGb7D7NZb