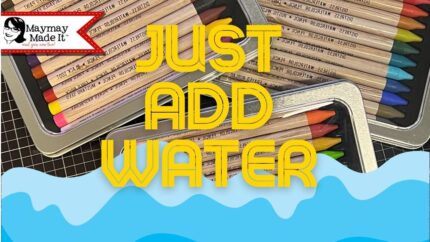 Have you wanted to do some watercolor but it stopped you in your tracks…does it look to complicated? It is so easy with the Tim Holtz  Watercolor pencils!
Tonight Maymay shows the pencils in action! And Man it is soooo easy!
So grab us those supplies and let's play with some watercolors!
Tonight Maymay makes a A2 card panel that measures 4.25″ x 5.50″
Here is a list of supplies featured:
TH Distress Watercolor Pencils https://bit.ly/3YScECM
(3 sets to choose from)
TH Distress Watercolor Cardstock https://bit.ly/3Lve9Ud
Meander Stamp Set  6X6   https://bit.ly/3kwvXU6
Heart Strings Stamp Set  6X6  https://bit.ly/3m5iym6
Sewlestrial Stamp Set  6X6  https://bit.ly/41BcB0q
MISTI https://bit.ly/3SRMXk6
Versafine Onyx Black Ink https://bit.ly/3Ctk6K6
M'pressables https://bit.ly/3uhfvsx
Nuvo Watercolor Brushes https://bit.ly/3lieYFn
Spellbinder Best Ever Tape https://bit.ly/3SHZ9D5